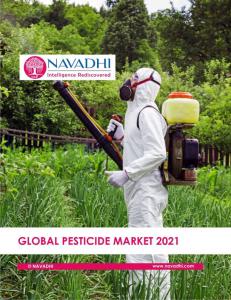 Global Pesticide Market Forecast 2021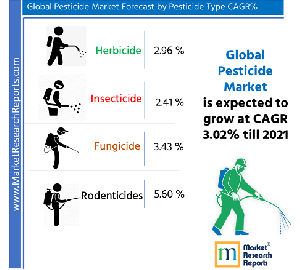 Global Pesticide Market by Pesticide Type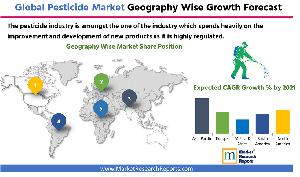 Global Pesticide Market by Geography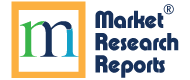 Market Research Reports Inc.
Global Pesticide Market Research Report 2021 (by Pesticide Type, Application and Geography) is now available from MarketResearchReports.com
LEWES, DELAWARE, DELAWARE, UNITED STATES, January 30, 2018 /EINPresswire.com/ — Pesticides play a vital role in increasing the yield of a harvest. With the commodities prices facing an all-time low and the market saturated with over produced of pesticides, the year 2017 will see an almost flat growth rate, which will pick up in 2018 due to the favourable weather conditions and other factors. The global pesticide market, which was highly fragmented previously will see a merger of the big players in the industry.
The developed countries will look to utilize the products present in inventory, so the developing economies such as India, Brazil and as well as others have been identified as a potential market. Globally the market is predicted to grow at a CAGR of about 3.02% with Asia Pacific region showing the maximum growth. The factors that are driving the growth are increasing food demand and technological advances along with the presence of a highly effective operational and logistics network.
The four major types of pesticides are herbicide, insecticide, fungicide and rodenticide, which form the base of the pesticide market, with herbicide covering around 42% of the market, followed by insecticides and herbicides respectively. Rodenticide market is very small compared to the other three types as it covers only 3% of the market.
11 major companies have been covered in this report for accurately studying the market and understanding the need of the market, and to determine the growth drivers and inhibitors and trends followed in the pesticide market.
The report contains forecast by Pesticide Type
• Herbicide
• Insecticide
• Fungicide
• Rodenticides
The report contains forecast by Pesticide Applications
• Crop based Pesticides
• Non Crop Based Pesticides
and Global Pesticide Market Forecast by Geography
• North America
• Latin America
• Middle East and Africa
• Europe
• Asia-Pacific
Companies Covered in this report are:
• BASF SE
• ADAMA Agricultural Solution Ltd.
• Nufarm Limited
• Bayer AG.
• Syngenta AG.
• Monsanto Company
• FMC
• DuPont
• Dow Agro Sciences
• Sumitomo Chemical Company Limited
• Rallis India Limited.
Scope of the Global Pesticide Market Report
•This report provides a detailed view of Global Pesticide Market.
•This report identifies the need for pesticides.
•This report provides detailed information on Pesticide market with growth forecasts up to 2021.
•The report identifies the growth drivers and inhibitors for Pesticide market in world.
•This report profiles top eleven manufacturers related to global Pesticide market.
•This report provides detailed competitive landscape of global Pesticide market.
•This report identifies major challenges faced by a new player in global Pesticide market.
•The report identifies the key risks associated with global Pesticide market.
•This report provides future trends for Global Pesticide Market.
•This report also provides recommendations for policy makers and investors and helps other players sustain in this market.
For more details visit: https://www.marketresearchreports.com/navadhi/global-pesticide-market-research-report-2021-pesticide-type-application-and-geography
Browse more on AGRICULTURAL CHEMICALS MARKET RESEARCH REPORTS
About Market Research Reports, Inc.
Market Research Reports® Inc. is world's largest store offering quality market research, SWOT analysis, competitive intelligence and industry reports. We help Fortune 500 to Start-Ups with the latest market research reports on global &regional markets which comprise key industries, leading market players, new products and latest industry analysis & trends.
About NAVADHI Market Research Pvt Ltd.
NAVADHI is a market research company that helps global firms differentiate themselves, break market entry barriers, track their investments, develop business strategies and plan for future by providing actionable market research intelligence that helps them succeed.
Sudeep Chakravarty
Market Research Reports Inc.
+1-302-703-9904
email us here

Source: EIN Presswire