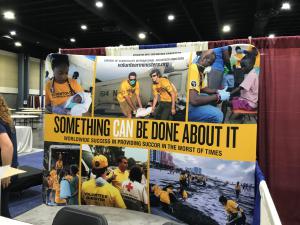 The backdrop to the Scientology Volunteer Ministers booth at the Governor's Hurricane Conference announces the hopeful "Something can be done about it."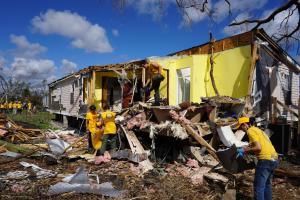 Scientology Volunteer Ministers joined the disaster response in Panama City Florida
I have seen the effects of a hurricane upon an unprepared populace. I want to do everything I can to help my Florida neighbors be more prepared the next time we are faced with such a situation."
— Martha Stilson, Church of Scientology Tampa representative
TAMPA, FLORIDA, US, May 16, 2019 /EINPresswire.com/ — Tampa, Florida – This week, in preparation for hurricane season, Martha Stilson, the Church of Scientology Tampa representative, is attending the Governor's Hurricane Conference in Miami. Martha is also a Scientology Volunteer Minister and joined in disaster relief efforts for residents of Florida's panhandle which was devastated by Hurricane Michael earlier this year.
"I have seen the effects of a hurricane upon an unprepared populace," said Martha. "I want to do everything I can to help my Florida neighbors be more prepared the next time we are faced with such a situation."
About the Scientology Volunteer Ministers (VMs):
Scientology Volunteer Ministers are best known for their work after disasters. Since 9/11, Volunteer Ministers are seen at nearly every disaster worldwide in distinctive yellow shirts, dispensing personal care packages, food and water to those impacted, and especially offering support to the first responders. They always announce the L. Ron Hubbard-inspired motto, "Something Can be Done About it." L. Ron Hubbard is founded the Scientology Volunteer Ministers program in 1973.
Martha Stilson
Church of Scientology Tampa
+1 813-872-0722
email us here

Source: EIN Presswire